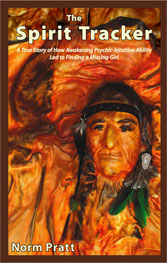 The Spirit Tracker
A True Story of How Awakening Psychic-Intuitive Ability Led to Finding a Missing Girl
by Norm Pratt
Norm has recently completed his first nonfiction book, the first of a series, about formative experiences with spiritual awakening, psychic phenomena and life as a 'psychic detective.' While the surface presentation of the story includes accounts of spirit visitations and other-worldly happenings, it is also a story full of the deeper meanings underlying these initially disturbing events.
As he studied and meditated and strove to develop his natural intuitive ability, Norm found a richness and spiritual significance behind even the subtlest of events, and eventually recognized and embraced the spiritual guidance leading his life experience. This book details many of his early premonitions, visions and dawning awarenesses that there was much more to life than met the eye or any of the physical senses, something transcending even the psychic senses, that struck a chord deep within his soul, calling him to commit his life to self-realization, spiritual enlightenment and public service.
The story culminates with a missing person investigation in which Norm assisted police in searching for a girl, providing clues from his intuitive guidance that eventually led Norm and police to recover her remains. It is an inspiring and heartfelt story based solely on his own experience, which included communicating with the spirit of the passed girl.
As the case unfolded over a period of several months, many of Norm's early dreams, visions and premonitions came true, creating an amazing and fascinating example of spiritual guidance effecting and influencing outcomes in the physical world.
Norm is beginning his second book, further relating his experiences and lessons as a psychic detective and spiritual seeker. This next book speaks even more specifically to the nature and development of intuitive guidance.